Spirit Week and Hoco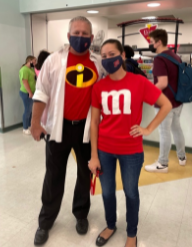 In comparison to last year, this year we have a homecoming dance.
Homecoming dances are staples in high school experiences. The week leading up to the dance is spirit week. Every day is a new theme to dress up as.
From Tropical Tuesday to Freedom Friday, this week brings out the Freedom Spirit we all love to see.
All students grades in 9-12 can attend the dance and even run for the homecoming court. Homecoming court is where students make ads for themselves and everyone votes on their king, queen, princess, prince, Dutch, duchess, lady, and lord.
This year the winners were Stevie McLaughlin, Jasper Weston, Addie Barno, Diego Pardo, Olivia Becht, Chase Engel, Mia Gold and Jojo Jones.
Winners were announced at the Football game during halftime and the homecoming dance and were awarded a sash and a rose.
The king and queen had their first dance together at the homecoming dance Saturday night.
"Winning was so exciting and rewarding, the whole night was perfect!" Addie Barno (10) said At the football game, all contestants were escorted onto the field by their parents, siblings, or friends.
The winners were then announced to the crowd. On Saturday at homecoming, all the participants for king and queen were led on the stage and then announced the winner. The king and queen danced together and the night went on.
There was food, drinks, photo booth pictures, and lots of dancing.