Iza Ringeman talks about SGA interview and acceptance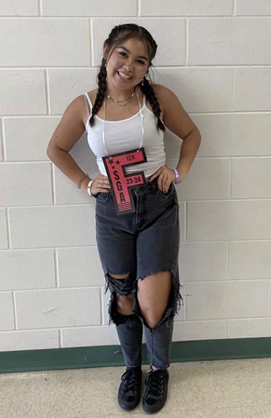 Students at Freedom join the Student Government Association to be a part of school activities and make everyone more involved.
Iza Ringeman (10) thought that going into her junior year at Freedom would be a great opportunity to join SGA. Ringeman is also on the schools' color guard team as one of her extracurriculars.
"I didn't join last year because I didn't know the interviews were going on and didn't know how to get it. This year I decided just because I wanted to be more involved in school."
Ringeman was expecting most of the interview questions and was prepared with her answers to show her preparation.
"I expected the questions that they had asked me. They asked about what ideas I have and what I would bring to SGA and then they asked me what my spirit animal was and that was fun."
She said that really wanted to get in to be able to be more involved but wasn't 100% sure she was going to. Ringeman waited patiently for the students in SGA to come into her class to let her know she got in.
"I was still nervous going into the interview because I really wanted to get in, and I was going to try my hardest in the interview."
The interview wasn't difficult or nerve racking at all for Ringeman. She enjoyed the interview in fact. All of the people in charge of the interviewing process were very pleasant and made it quick and easy.
"The interview process was a lot of fun and not scary at all, everyone was very nice and welcoming."
Ringeman was very optimistic in her chances of getting in. Many people apply to get in SGA but only 25-30 people actually get in. This process of the interview is crucial for making sure everyone who gets into SGA is involved and wants to be there participating in events.
"I didn't except to get in, but I knew a lot of the people, so I was hopeful, but I still didn't know for sure."