Why LSU winning the women's Basketball championship was a big deal
What happened?
This past Sunday on 4/2/23, the LSU women's basketball team made history by winning the NCAA Women's Championship, beating arguably the best player in the whole tournament Caitlin Clark and her team Iowa.
This win also gave LSU their first women's championship ever in their history, which is pretty impressive for not only the team but also great for the school.
The team also played very well, scoring the most points by a team in the NCAA women's championship game.
LSU's season
Besides finishing the season with silverware, they also had a really good season, going 34-2 overall on the season.
In their conference, they went 15-1, with their loss coming against the number one ranked team, South Carolina.
Iowa's season
Although losing the title game, The women's team definitely had a memorable season for everyone to be in awe of.
Their star player, Caitlin Clark took the world by storm this year specifically, consistently turning in amazing performances game after game.
And although she lost, in the title game she definitely didn't perform badly as she had 30 points and contributing 8 assists in the big game.
In the NCAA tournament this year, she had scored the most points ever in a single tournament, while also having the most assists ever in a single tournament.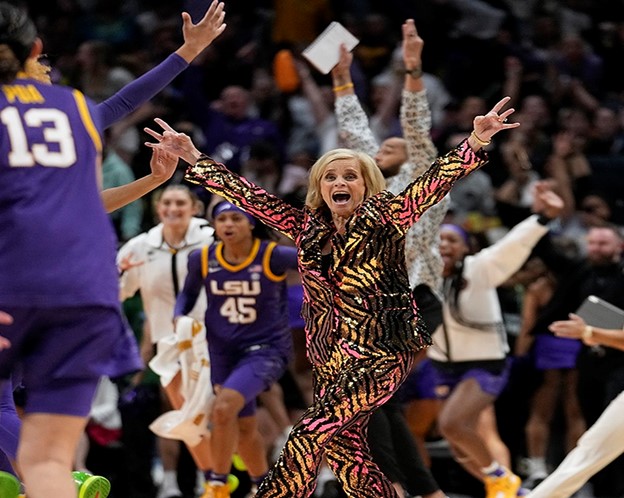 Backlash
However not everyone felt happy for for LSU's Angel Reese, the star player for LSU, who played tremendous throughout the year.
As good as Caitlin Clark was, she also made headlines for the taunts she made toward other players all year, which included a "you can't see me" hand gesture, trademarked by John Cena.
And after LSU won, Reese went over to give Clark a taste of her won medicine, which led to Twitter being in a uproar, with some labeling her as "classless" and "ghetto" and some even calling a 'idiot'.
This wasn't anything new to Reese who received similar comments about her on social media throughout the season due to her loud nature on the court.
This lead to numerous athletes all over social media, notably including Lebron James and Shaquille O'Neal among others come to defend her.
Regardless, LSU should still be proud of having a fantastic season and finishing out strong and on top.