FREEDOM SWIM & DIVE ARE REGIONAL CHAMPIONS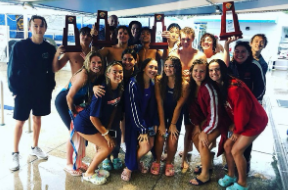 This past Friday at about 12:30pm, Freedom's boys and girls swim and dive teams were crowned the
regional champions! They received their trophies, as well as both trophies from districts last week. The
girls had a point total of 302, with Sunlake coming in second place with 290.5, and the boys won by
almost 100 points, scoring 320 with runner-up New Smyrna Beach High School earning 238 points.
Notably worth mentioning, sophomore Karis Kraf competed in Regionals for diving the day before,
earning one of her best scores and contributing 12 points to the girls' overall score. Without Kraf, the
girls would not have won the first-place title!
Freedom had quite a large appearance at the regional meet, with eleven girls and ten boys representing.
Out of these athletes, five girls and five boys qualified for the state championships. Among them are
Nella Briceno, 10, Carly Joerin, 12, Alexa Castaldi, 12, Alex LaBohn, 9, and Michelle Morgan, 12. For the
boys, Martin Ferrebee, 11, Sean Thatavakorn, 9, Brandon Thatavakorn, 11, Ethan Udagawa, 11, Anthony
Murashkin, 9, and Gregory Murashkin, 9.
To qualify in individual events, swimmers were guaranteed a spot at the meet if they placed first or
second at regionals. There are four regions in class 3A (the classes are dependent on school population
size) so that is eight guaranteed spots, and after that, all of the regions' results are combined for each
event, and the following 16 fastest swimmers are selected for each event. In total, there are 24
swimmers for each event that will go to states for individual events. For relays, it is a similar process,
with the two fastest relays guaranteed, but when the regions are combined it is only the following eight
fastest relays that also advance, for a total of 16 relay teams at States.
This is the first time in years that Freedom will have this large of a representation at states. In addition
to the individual swimmers, Freedom has three relays advancing- the girls and boys 200 medley relays as
well as the girls 200 freestyle relay. The meet will be in Stuart, Florida this Saturday, the 13th of
November, make sure to wish your Patriot swimmers good luck!
Freedom swimmers holding up the districts and regionals trophies after the meet.