In It For The Art
When asked "Who is Dave Matthews?" most students might answer with a blank stare. However, students who have had the pleasure of taking one of Mr. Fintel's courses would be more than likely to tell you that he is a musician. Specifically, a musician who has his very own domain on our campus. This territory is room 301, Mr. Fintel's. He is an Art Teacher, and this is his third year at Freedom High School. He graduated from Ringling College of Art and Design in Sarasota and has been teaching for fourteen years. His favorite mediums of Art to teach are drawing and painting.
More often than not, the minute you step foot into Fintel's classroom, you are greeted by an ambient atmosphere. This atmosphere including the light chatter of students, the scratching of charcoal pencils, the slight friction of paper to table and of course, Fintel's Pandora station lightly streaming music into the air. This tranquil environment sets a very easy-going tone for Fintel and his students. These talented students with diverse skill levels are calm and focused. But why? Perhaps this could correlate to the music taste of Fintel. Between Jack Johnson, John Mayer and of course Dave Matthews, Fintel's music taste is very laidback and chill. Hence, this could relax the students as well. This relaxation would enable the students to hone in their focus on various Art assignments. And of course, it makes the day even more enjoyable for Fintel.
"The creative juices are always fillin' and spillin' out of my classroom. I love it."
Given this background of Fintel's interest in music, one might understand why he may struggle when asked to pick his top three music albums of all time.
"Oh no, don't do that. That's tough, that's tough. You're going to have to come back to that one."
After he was given twenty-four hours to decide, he was finally able to come to a final answer.
"Alright I got it. The Who: Who's Next, Michael Jackson: Thriller and Pearl Jam: Ten. But, of course my go to is always Dave Matthews."
Fintel takes pride in his Art programs. He is always impressed with the work produced by his students, and is always encouraging them to use their full potential.
"All my students are very polite and they always try their best. They know I don't accept "I can't" or "I won't," so they're always striving to do exceptional things. I try to think of creative things that will help them grow and become better at what they like. I hope I really do inspire them."
When he's not at the helm of Freedom's bustling Art program, Fintel enjoys to paint on his own. But mostly, he loves to spend as much time as possible with his family.
"In my spare time, I'm always doing something with my family. That's what I enjoy the most. I'm always, always with my wife and my kids. "
But why Art? What would make someone want to devote their days to teaching and practicing art?
"Honestly, I could not sit in a class and take notes for 3 hours without drawing. I knew that I needed to do something hands-on and art related. I'm a little too scatterbrained for monotonous work."
Now, we all have our High School memories, anecdotes and mishaps. So how about Mr. Fintel? When you finally reach your senior year, it is your time to be at the top of the food chain. Your time to make your final impression on your institution. Your time to be Prom King or Queen. Your time to leave campus early to avoid the woes of afternoon traffic. Your time for Grad-Bash. Your time to graduate! And infamously, your time for senior pranks. Unfortunately for Fintel, his experience with senior pranks was not the usual jocular shenanigans.
"We got kind of… our senior prank got kind of… well, we weren't able to do one. We took a rival club's float from the homecoming parade… well I didn't. I did not do this! It was other people in the club. I was playing football; I was on the football team. We had a huge homecoming parade with like 50 floats. One club decided to take their rival club's float and release it down a boat ramp… yeah. So we were sort of put on probation for senior pranks."
Last but not least, the one question on the tip of every students tongue has finally been answered. When did Mr. Fintel go bald?
"I don't really remember. I shaved my head the day after I graduated college. I've been bald ever since. I'd always had a receding hair-line, even in high school. But I always had short hair. Then in college I grew it out. I woke up the morning after I graduated college and shaved it all off." He continued, "I have this theory: Hair is like Playdoh. You know, like the spaghetti playdoh? You squeeze it, and you only have so much of it. So, eventually, you just run out."
Leave a Comment
About the Contributor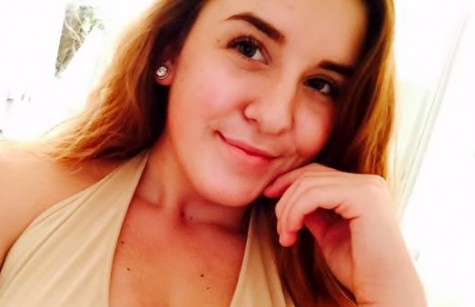 Phoebe Dudney, Copy Editor


Phoebe Dudney was born on  February 23rd, 1999, and is a junior at Freedom High School. This year she is starting her third year writing for the...