Singing her heart out: Freedom Senior talks about first-year experience in chorus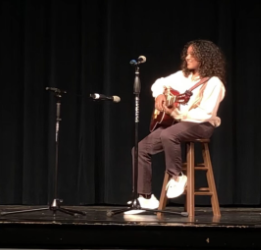 Freedom's chorus has a lot of talented singers in their department this year. Leilani Merkerson (12) is excited to join the program and experience what it is like singing with everyone else.
Merkerson joined chorus to help her vocal techniques and to learn more about singing. She loves performing while playing acoustic guitar, as well.
"ROTC yelling all the time was ruining my voice. So, I thought, hey, let me get a singing class. It could help me in my voice," Merkerson said.
She was in ROTC for three years of high school and was ready to leave because she didn't want to ruin her voice anymore after screaming so much. Although she loved being in ROTC it was not what she wanted to pursue after high school so there was no point in staying in the class.
'Bella Voce' is one of the chorus classes at Freedom and is more of a classical singing class, and a lot of the students that take this class love it and say that it helps them.
Merkerson says that she loves the people in the class even though it's not her main genre of singing that she enjoys.
"It's not really my style of singing so I'm kind of stuck with it now. But if I had to choose one thing that I liked, it would probably be the people."
Merkerson enjoys singing and hopes to earn a college scholarship with her talent. After college, she would love to have a career as a singer. She has always loved singing and has never really thought of doing anything else.
"I've been singing since I was in like, the womb," Merkerson said. "Like, yes, yes, I plan to sing in college."