Freedom's Swim Team Takes on States
Even in a year of COVID-19, high school swimming State Championships was still a go. States was held in Stuart, Florida and the class 3A Championships took place last Friday. Freedom students Carly Joerin, Alexa Valdez-Valez, Michelle Morgan, Hannah LaBohn (attends Brooks DeBartolo), and Zachary Kopel advanced to the state competition. The team's first-year coach, John Olewski, was in attendance to support and help out the team through the meet.
This was a prelims and finals meet, meaning the swimmers swam in the morning and had to qualify to swim again at night, the student athletes headed down to Stuart on Thursday. Friday morning, warm-ups began at 7:30 AM and the meet at 9:00 AM.
Up first was Carly Joerin, 11, and Zachary Kopel, 12, both competing in the 200 freestyle. Joerin posted a best time of 1:54.74, as did Kopel with a 1:41.93. Joerin made the A final, placing seventh in prelims, and Kopel followed placing third. Shortly after, Michelle Morgan, 11, swam a near best time in the 200 Individual Medley, swimming a 2:02.38 and placing second.
Hannah LaBohn, 12, swam not too long after, and was just off of her best time, which she achieved at regionals – going a 24.85 in the 50 yard freestyle, snagging a spot in the B final in 14th place. LaBohn swam her second race a couple events later, going a best time in her 100 freestyle, hitting the wall in 53.78 seconds and placing 10th.
Next up Morgan, Joerin, and Kopel competed in the 500 yard freestyle. Joerin went another best time in this event, placing 9th with a 5:01.42. Morgan swam a few seconds off of her lifetime best with a 4:49.72 placing first, and Kopel finished 8th with a best time of 4:37.01.
Lastly, Alexa Valdez-Valez, 11, LaBohn, Joerin, and Morgan competed in the 400 freestyle relay, where each swimmer does 4 laps of freestyle. LaBohn led off with a 53.88, Valdez-Valez and Joerin followed with 54.69 and 54.01 respectively, and Morgan anchored with a 50.68 to finish off the relay in third place for finals.
Finals started at 5:30 PM and first up were Joerin and Kopel with their 200 freestyles. Joerin went a little over her prelims time at a 1:56.03 and placed 7th. Kopel placed 7th as well with a 1:43.94, securing Freedom's second medal of the night.
Next up was Morgan racing the 200 Individual Medley, winning the event and becoming state champion with a personal best time of 2:00.92 earning a gold medal. Following closely after, LaBohn swam the 50 freestyle, placing 15th with a time of 25.14. Swimming her next event, LaBohn placed 10th in the 100 freestyle with a 53.77, not long after her first race of the night. Morgan and Joerin followed soon after with the 500 freestyle. Joerin was just off her prelims time, placing 11th with a 5:03.06, and Morgan placed second in the state, winning a silver medal in the A final with a time of 4:48.43, shaving just a little off of her prelims swim.
Next up in the distance event was Kopel, finishing his 500 freestyle in 4:39.62 and placing 8th overall. Last up, the girls 400 freestyle relay was up to end off the meet. LaBohn started off with a 53.78, Valdez-Valez followed with a 54.74, Joerin went third with a 53.85, and Morgan ended off the relay with a 50.21, securing Freedom's third place
finish and a bronze medal.
In total, the Freedom girl's team ended in 8th place of 41 teams, with 7 medals brought home. Kopel, by himself, placed 25th overall on the boy's side, and brought home two medals on his own. It was a fantastic way to end the season, and everyone is looking forward to next year to how we can improve even more.
About the Writer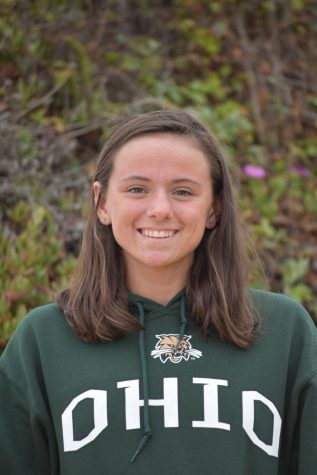 Michelle Morgan, Staff Writer
Michelle Morgan is a 16 year old junior, and it is her second year writing for newspaper. She is on the high school swim team in addition to her club team...