First Week Of School: Brick and Mortar
Nothing about this year has been normal, and for the first week of school, no one knew what to expect. With almost half of the kids in brick-and-mortar school, changes had to be made.
In the classroom, the setting is much different than last year, and every year before that. To reduce the risk of spreading Covid-19, everyone must wear a mask at all times, almost every teacher has given their classes assigned seats, and, for the most part, they have tried to spread out the desks as far as possible. Every class ends with sanitizing the tables and school-provided materials we used during the period. Hand sanitizers and wipes are in every room.
As for the classes themselves, many teachers are juggling both brick-and-mortar students and e-learning students at the same time. There was a "Smart Start" week, from August 24th-28th, so that both teachers and students alike could adjust to the new online platform we are using (Canvas), but with class and teacher changes, not much progress was made.
In between classes, even the hallways look different. Similar to the classroom, masks must always be worn, except for when eating at lunch, at there are certain protocol students are asked to follow. There are certain stairs marked for up and down, and people are asked to stay on the right side of the walkway to reduce risk of transmission.
There have been a couple good things out of this mess of a week. Firstly, the average class size is much smaller, and that allows students to be able to ask their teachers more questions, since the teacher isn't always handling thirty-plus students. Secondly, the desks are being cleaned, the laptops are being wiped, and the classrooms smell like Lysol. The cleanliness of the school had increased because almost every student is wiping down their personal area after every class.
While the situation is no where near ideal, in many ways the first week went better than expected.
About the Writer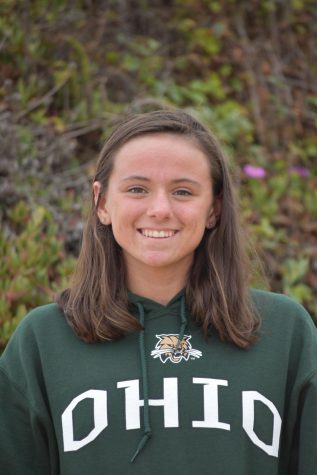 Michelle Morgan, Staff Writer
Michelle Morgan is a 16 year old junior, and it is her second year writing for newspaper. She is on the high school swim team in addition to her club team...