War Eagle!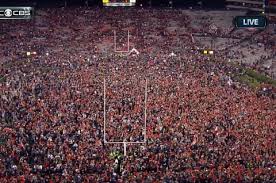 The Alabama Crimson Tide started this college football season ranked #1 and remained there for 14 weeks until last Saturday night's Iron Bowl when their in-state rivals, the #4 ranked Auburn Tigers upset them 34-28, handing them their first loss in an unbelievable ending. The game was tied at 28 when Alabama attempted a 57-yard field goal for the win with one second left in regulation; the kick did not make it to the goal post and was subsequently returned by Auburn cornerback Chris Davis 100 yards for the game-winning touchdown, stunning everyone, even himself.
"When I looked back, I said I couldn't believe this," Davis said. "When I was running I said 'God is good.'" Just food for thought, a missed field goal has only been returned for a touchdown four times in the history of college football, dating back to 1869.
Alabama's tough Iron Bowl loss dropped them to #4 in the BCS standings, just behind #3 Auburn, leaving Florida State and Ohio State as #1 and #2 respectively. The Florida State Seminoles move on to play the Duke Blue Devils in the ACC Championship, a game the Seminoles are a 28-point favorite to win. The Ohio State Buckeyes will play the Michigan State Spartans in the Big 10 Championship, a game the Buckeyes are a 5-point favorite to win. If the Seminoles and Buckeyes win their respective conference championship games, they will face-off in the BCS Championship on January 6th at the Rose Bowl in Pasadena, California. With Alabama now out of the top 2, Florida State's future appears very bright.
"Expectations are high and you can't run from expectations." Seminoles head coach Jimbo Fisher said. "It's how you deal with them, expectations don't win games. Just like talent. Talent is what you're capable of; attitude determines how well you do it. If we're ready to play, then the expectations will come true."
The Ohio State Buckeyes' win last weekend was crucial to their BCS Championship chances, but was overshadowed by the crazy events that occurred in the Auburn-Alabama game. The Buckeyes played their rivals, the Michigan Wolverines in a game that also came down to one of the final plays of the game. The Wolverines scored a touchdown with a little over 30 seconds left in regulation, making the game 42-41 Ohio State. Head coach Brady Hoke chose a two-point conversion to go for the win, instead of a point-after-touchdown to tie the game up. The Wolverines failed to convert on the two-point conversion, and Ohio State left Michigan Stadium with the win.
"We played the game to win," Hoke said.
Leave a Comment
About the Contributor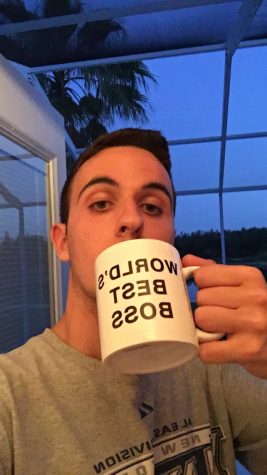 Tommy Capobianco, Editor-in-Chief
Tommy Capobianco was born in White Plains, New York, but currently resides in Tampa, Florida. Tommy is a senior at Freedom High School and this is his second year...