What's the coolest thing you've seen in nature?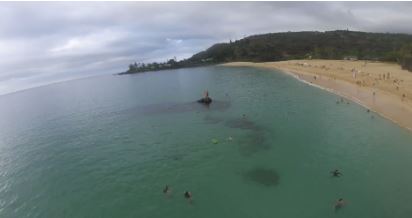 Nature is cool all on its own without searching for it. There are so many different occurring things in nature that are out there that you can see all over and it's not something you have to seek for if you just keep your eyes open.
For my sister's 16th birthday my family and I took a trip to Hawaii. There were so many cool things that we could see with just a look out the car's window driving around.
We went over this awesome looking forest; the road was stilted up above all of the tread and then it went through a mountain.
There were so many cool things that stood out all over Hawaii and it was just astounding to see all these natural occurring things. It's awesome to see a place where the people care about how their state looks and they take care of the environment.
We also went on a little hike in this park and the trail takes you up to a spring that has a waterfall also feeding into it. Depending on the time of year is how much the waterfall is flowing, but it's cool no matter what, at the time we were there it wasn't crazy big but still and incredible experience.
But I think the coolest thing of all was a place called Waimea bay. It had an incredible beac, rocks that you could swim to and so much sea life just around you.
The craziest part was a massive rock that is about 25ft high but the tide was out so it was a little higher than normal. There were people climbing it and if you walk far enough out you are able to jump off and it was such a cool experience.