Frog Evans; The Best of Both Worlds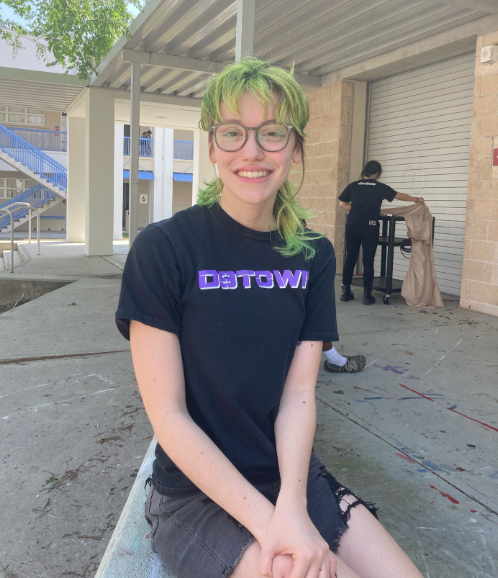 "I like being able to do both because I'm more in the know on everything so like when I'm in the acting
class, it helps me in tech because I get all the props we need to make a bit more, I get to like, when the
moves happen and all that type of stuff, Frog Evans (12) said. "And like, vice-versa in tech, if actors ask me when a prop is
getting made of something, I can tell them you know, were working on it, or were halfway there, just a
little bit more tweaking."
Evans has been doing theater all four years of high school.
"My old school [Gaither] didn't have any tech classes, so I did the musical theater class there, and I also
did tech after school for troupe."
When Evans came to Freedom last year, they did the musical theater class, then they switched into the
troupe class.
Evans favorite production they've done was James and the Giant Peach.
"Definatly Peach, James and the Giant Peach. That show was really fun. I did the lights for that show,
and I won an award for that, so that was pretty fun."
Evans was the special effects lighting coordinator for Theory of Relativity this year.
Evans is also part of a large group musical number that is going to states, Welcome to the Renaissance,
Evans choreographed most of the song.
"As musical theater rep, most of my duties happen at the beginning of the year, and it's to do with
IEs, and IPS related stuff, so I help people pick out pieces, I can help critique them, I can give then
feedback. Basically anything musical theater related."
After this year, Evans will be going to college for tech theater, and was accepted to Colombia College
Chicago.
Evans current favorite musical is Natasha, Pierre & The Great Comet of 1812.