Saleem Sekkat; Freedom's Theater King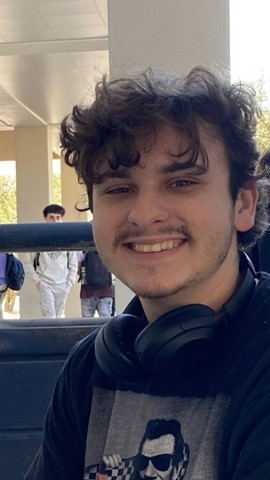 "I can't even explain the magic of that moment, I felt like I was in a movie, I was sweating, I was like, metaphorically stabbing this man, I was like in heat and anger, I was like, and the audience did that [gasped] and I had to fight every instinct in my body to fight every instinct in my body to smile like a little child because I was so happy," Saleem Sekkat (12) said of his first time on stage.
Sekkat was cast as the leading role of Romeo Montague in Freedom's one act performance of Romeo and Juliet, in just his freshman year. Sekkat is also the drama club president at Freedom.
His time as an actor in Freedom's troupe 6529 has been just as good. His favorite freedom production was last year's one act production of James and the Giant Peach.
"I got to be earthworm, who is this, silly, crazy little guy, who gets to sing a song that's just one, massive inuendo, and it was just really, really fun."
Sekkat doesn't intend to go to college after this year. He plans to get a full-time job, be able to support himself, and settle down with his girlfriend Cali. whilst pursuing acting on a more professional level.
"I think I would like to be an actor, but I think generally though, if I may elaborate on that, I don't just mean like, oh I want to be in plays or musicals, or I want to be in movies and tv shows. I also really like the prospect of potentially being a voice actor and other things like that."
Sekkat is also the drama club president at Freedom.
"I think generally just being associated with the arts; I'll probably be happy."