Gas Prices on the Rise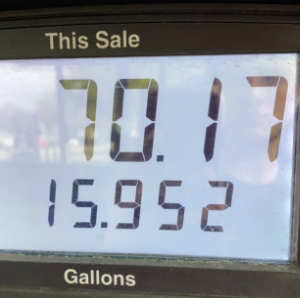 A lot of people have been concerned lately about how the gas prices have highly
increased and continues to do so.
The dramatic rise in gas prices have been noticed by individuals and communities
across Florida and the United States.
In Florida, the current average price for a gallon of gas has gone up to $4 which is
the highest it's been at since almost a decade.
Some other states such as Los Angelos have gone up to $7 per gallon.
Alexandrea Sipley, a senior, talks about how the dramatic rise in gas prices has and
will continue to affect people especially students and workers.
"The gas prices have gotten so high and it'll be hard on a lot of people especially
students and people who have jobs because they transport a lot and that will start
costing them a lot more," Sipley said.
Considering the impact of this issue, it's good to stay informed on the reason behind
this dramatic rise in gas prices.
The undeniable increase in the price of gas can be related to the Russian invasion of
Ukraine which is why the prices are expected to keep rising until the month of May
of 2022.
Gael Sacaza, a senior, talks about how he's afraid of how much higher the gas prices
could get.
"The gas prices are expected to stay high until November and it's worrying because
it's already high right now and might continue to get higher and higher and that will
keep causing problems for so many people that can already hardly afford it right
now," Sacaza said.
This problem has sent a lot of drivers into frenzy and as much as it's frustrating, all
that people could do currently is to be patients and wait to see what happens in the
near future.