Bruno Mars and Anderson Paak form new duo called Silk Sonic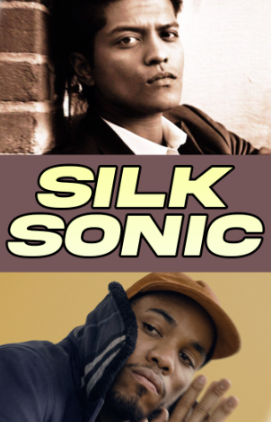 After years with no album releases, mainstream star Bruno Mars reveals his next major project in sight as a collaboration with fellow artist Anderson .Paak.
About a week ago at the same time, both Bruno Mars and Anderson .Paak revealed on social media the album cover for their new collaboration album, An Evening With Silk Sonic. Just two days ago, the first single released, named Leave the Door Open. With lyrics from the two exuding love and charisma, the general consensus from the internet is that Mr. Mars and Mr. Paak are bringing their A-Game with this new song. Reddit user Nickelas stated what everyone was thinking under a thread for this single. "My expectations were sky high and they've been blown away!"
For those who may have forgot about Bruno Mars, the charismatic musician boasts 36 million monthly listeners on Spotify, as well having several household songs under his discography, such as When I Was Your Man, That's What I Like,Just the Way You Are, and many more. With Mr. Mars's extreme success, you would figure that he would be releasing full-length projects more frequently. After all, most of these songs have been extensively played everywhere, from school dances to gas stations. However, the latest project to be published was 24k Magicin November 18, 2016. Fans have been patiently waiting for a new album, and with the announcement for An Evening With Silk Sonic, they are at the very least hyped for it. In a YouTube review of the track, popular music critic Anthony Fantano states his excitement for the release. "At this point, call me excited, call me looking forward to more from Bruno, Anderson, and Silk Sonic. Let's Go."
With that being said, you can't talk about one half of Silk Sonic without talking about the other, Anderson .Paak. While Mister .Paak only flaunts around 8 million monthly Spotify listeners, a fraction of Bruno Mars's 38 million, the two have still decided to collaborate together, in spite of their difference in following. As a personal fan of Anderson .Paak and his beautiful, jazzy sensations like Malibu, Oxnard, and Ventura, I can personally vouch for his talent and prowess. I also hope that he becomes a household name much like Bruno because of this Silk Sonic project, in which I am not alone in this thinking. In the same reddit post, user yoitscaptain said the following: "And we thought .paak was famous now. This man is about to be a household name with this, oh my," he said.
Much as like the song is called Leave the Door Open, many will be leaving their ears open to what Bruno and Anderson bring to the table in their duo dynamic. With the expectations of many brought sky high with this single, many are awaiting their own evening with Silk Sonic, once it eventually releases on major streaming platforms.