Order on the court
Freedom boys basketball started off their season with a big win against Alonso. The team is led by Coach Ken Angel. Leading the team on the court are seniors Jack Stone and Javiel Hamlet. Other key players are juniors Josh Germain, Jordan Jones and Christian Devore. New additions such as Jaylen Tinervine, 11, and Jordan Higdon, 12, have also made significant contributions to the team.
"Javi is one of my best friends and he really encouraged me to come and play for Freedom," Tinervine said.
Tinervine he's been wanting to come to Freedom since his freshman year but it has not worked out until now. He is a point guard who has been brought in to help facilitate the offense for the team. Although he has to wait ten practices before he can play in a game, he has been working hard and pushing everyone to do better in practice and from the bench.
"We work together very well as a team and we all feel like brothers," Hamlet said.
The team this year shares a great group dynamic and have worked to improve the team chemistry after last year's disappointing season.
"Coach Ken definitely recognizes that we work better as a team than we did last year," said Germain. "He sees the potential we have and we all just want it (wins) more this year."
Germain has really filled out his role as a leader in his second varsity season and brings a fire and intensity that is much needed. Germain helps to make everyone on the team feel like family and inspires the junior varsity (JV)  players as well.
"I want to be a role model for the kids on JV because I remember how I looked up to the varsity players as a freshman," Germain said. "I just want to recreate that feeling for them."
Varsity is full of strong leaders that want to help newer and younger players to never stop striving for greatness.
"We're gonna push them and make them work in practice and let them know that varsity isn't at all easy," Devore said.
Devore and Jones are both making sure that JV players don't mess around and takes things seriously in order to prepare them for their varsity careers. They are both rising seniors who are ensuring that the team continues to improve.
"Communication is definitely what we need to improve upon the most," Tinervine said.
Talking on the court is a very crucial element that Coach Ken stresses to his players. The team is working towards communicating better during the game in order to keep everyone on the same page.
"Defense is for sure our best quality," Jones said.
The consensus among the players is that the team's defense is what makes them stand out. The hustle and character of this team helps them make great defensive plays and win games.
"I want to help turn this team around and lead us to a district championship," Hamlet said.
About the Writer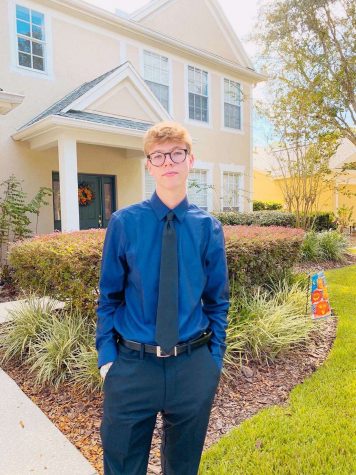 Matthew Wilson, Staff Writer
Matthew Wilson is a senior and this is his first year on the Revolution staff. Wilson has played basketball with Freedom since his sophomore year. He is...