Craving Cappy's
Hang on for a minute...we're trying to find some more stories you might like.
Tampa Palms is filled with restaurants, from the locally owned to chain establishments. A notable local restaurant is Cappy's Pizza. Numerous Cappy's are scattered throughout Tampa Bay, with others in Brandon/Riverview, St. Pete and South Tampa.
There are currently three Freedom High students who work at the pizzeria. Among them is Senior Ben Pickard, who has been a part of the Cappy's staff for over a year.
"Working at Cappy's is the best," Pickard stated. "The pizza is amazing, as well as other items from our menu, like the cheese bread, or maybe even a calzone."
Sophomore Evan Green recently found a job at Cappy's.
"Cappy's Pizza is a great restaurant to eat and work at," said Green. "Work there is like another home away from home due to the fact that our entire squad of employees are like one big family. Sometimes when we are not busy, we play music, chill and talk about different topics until our work is needed again."
Apart from the pleasant working experience, Cappy's offers a one-of-a-kind dining experience.
"The inside of the building is different from most restaurants," Pickard added. "It makes you feel like you've been shot back 30 years at a Pizzeria in New York or Chicago. We got stuff on the walls trying to appeal to different customers. We make sure that the food we serve is made to the best of our abilities. One of my personal favorites is a classic New York with onions, pepperoni, and chicken."
Cappy's has been recognized as one of the best pizzerias in the Tampa Bay area numerous times.
"We've won Best in the Bay the past five years, so basically you can say we're the superior pizza place," Pickard announced.
Cappy's is also beloved by its loyal customers.
"I like going into Cappy's because apart from the great quality of the pizza, the service provided by the employees is untouchable," Senior Matt Koller claimed. "The Cappy's people are always nice and always wanting to improve their work. I highly recommend Cappy's if you're trying to have a fine dining experience."
Cappy's is a great establishment that provides excellent service, food, and experiences.
"Overall, Cappy's Pizza is the best restaurant in existence," Green stated.

About the Writer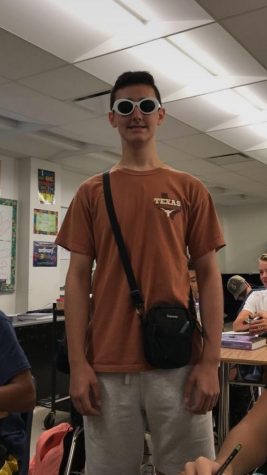 Aidan Carney, Staff Writer



Aidan is a Senior at Freedom, and this is his second year on the Revolution staff. Aidan is a member of both the hockey team and lacrosse team for...