RIP #53 Kosta Karageorge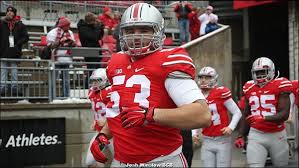 Ohio State football player Kosta Karageorge was reported missing on November 26th after he left his Columbus apartment near the Ohio State Campus at 2am for a walk. Before he disappeared, he sent a text message to his mother. "I'm sorry if I have been an embarrassment but the concussions have my head all [Expletive] up," Karageorge told him mom. Three days later, on Sunday afternoon, he was found in a dead in a dumpster. Columbus Police say he died from a self-inflicted gunshot wound, although the investigation is not final. Karageorge was scheduled to be honored on Senior Day in Ohio Stadium before the Ohio State Buckeyes- Michigan Wolverines game, but sadly that didn't happen.
Kosta Karageorge was a fourth-year senior at his hometown school, Ohio State University. Karageorge did three years of wrestling before walking on to the football team for his final year. He was a positive influence to his teammates and a role model both on and off the field. He was described as someone who made everyone's day enjoyable. In 2012-2013 Kosta won 35 wrestling matches. Kosta graduated from Thomas Worthington High School and he is the son of Susan and George Karageorge.
A couple hours after they had pronounced Karageorge dead, nearly 400 Ohio State students gathered out in the dark at the Oval, the center courtyard of campus, to hold a candlelight vigil to mourn the passing of Kosta Karageorge. Kosta was described as a great man. The candle light vigil was wrapped up with the playing of the schools alma mater "Carmen Ohio".
On Wednesday under a cold grey sky at the Annunciation Greek Orthodox Cathedral on friends, family, and teammates came to mourn the death of Karageorge at his funeral. Pictures of Karageorge doing things that he enjoyed like football and wrestling. Grief was visible on the faces of family and friends as they left the church with tears.
The Buckeyes honored Karageorge in the Big Ten Championship game with a "53" helmet sticker and a moment of silence before the game. It was an emotional game for the Buckeyes. Ohio State captain Michael Bennett honored Karageorge by wearing his number in the Big Ten Championship which the buckeyes smashed Wisconsin 59-0. On twitter after the game Ohio State stud Joey Bosa tweeted that was for you Kosta
The Buckeyes will now play Alabama in the Sugar Bowl with heavy hearts and a chance at a trip to the first college football playoff national championship. It will be a tough game for the Buckeyes since they lost their first and second string quarterbacks now there third string quarterback Cardele Jones will have to lead them to the national championship they will be playing inspired defense with the death of Karageorge and Ohio State captain Micheal Bennett will wear #53 in the memory of Kosta Karageogre.
FSA Connection Questions
 1. How did the author organize this story?
2. Summarize what you think this story is about ?
3. Why do you think this picture was used?
4. Did the author get anything wrong?
5. Is this piece the word mourn means what?
About the Writer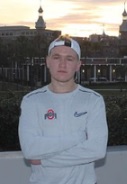 Kevin Jefferis, Staff Writer
Kevin Jefferis is a senior at Freedom High School. He is a captain on the cross country and he also runs track. He is an avid sports fan, especially...