Freedom Falls to Steinbrenner
Hang on for a minute...we're trying to find some more stories you might like.
The Freedom boys' lacrosse team was defeated by the Steinbrenner Warriors on Wednesday in the team's first game of the 2018 season with a score of 18-6.
The game started off fast-paced with two goals by the Warriors in the first quarter. At the half, Steinbrenner was ahead 7-2, with Freedom goals from Zack Kahn, 11, and Alek Rojas, 12.
"I got the ball and I looked at the kid guarding me, and knew he was not on my level," said Rojas. "So, I swim dodged and shot underhand bottom left corner and celebrated with my teammates. Always a great feeling."
Freedom's roster was much smaller than Steinbrenner's, with Freedom only being able to dress 20 players. This was due to the Title 9 rule stating that both the boys' and girls' teams must have the same number of players. The disadvantage showed late in the game when players became tired.
Captain Cole Crawford, 12, led the team with ten faceoff wins and two assists.
"It was a tough loss," said Crawford. "But we never quit, and that's something we can be proud of."
Despite the loss, the team still has high hopes for the rest of the season after getting past the first game.
"We learned a lot of who and what we are from last night," said head coach Chuck Graves. "We didn't lose the game, we learned from it. Going forward into Sickles and the rest of the season, we know what we need to do."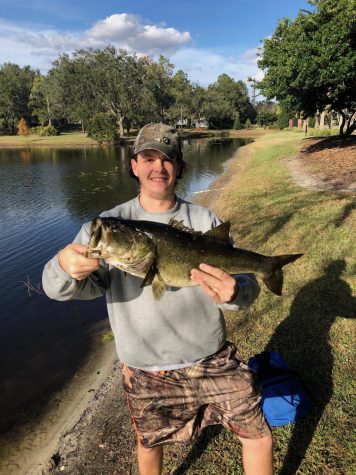 JD Flahart, Staff Writer
JD is a senior at Freedom High School. He is a member of the lacrosse team. In his free time, he enjoys fishing, hunting and hanging out with his friends....