Captain's Playlist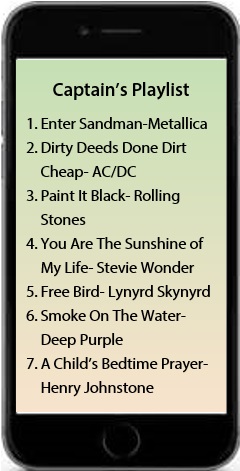 Hang on for a minute...we're trying to find some more stories you might like.
Captain Theodore Wasylkiw's playlist is largely classic rock. Some songs hold special meaning for the senior NJROTC instructor.
"'You Are the Sunshine of My Life' by Stevie Wonder was played at my wedding," Captain.
"Free Bird," by Lynyrd Skynyrd and Deep Purple's "Smoke on the Water" are childhood favorites, while "A Child's Bedtime Prayer," by Henry Johnstone is on his playlist because it has a child's prayer in it.
On the other hand, some of Captain's songs are beloved for their sound, such as "Enter Sandman" by Metallica, "Dirty Deeds Done Dirt Cheap" by AC/DC, and "Paint It Black" by the Rolling Stones.
"Even though Paint It Black is an anti-war song going against the Vietnam War, I like it – but I'm not against the Vietnam War," Captain clarified.