What Would You do With a Million Dollars?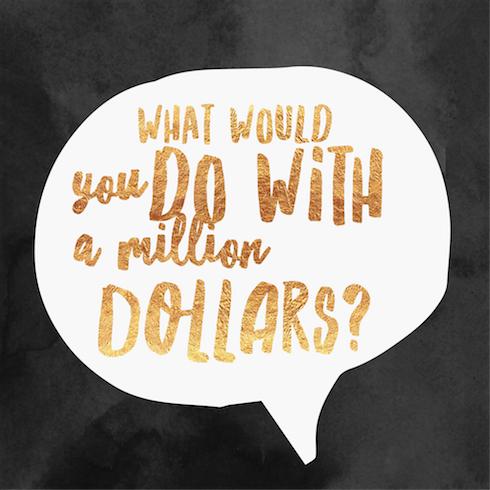 Hang on for a minute...we're trying to find some more stories you might like.
With a large amount of school work most high school students receive, among participating in extracurricular activities and clubs, balancing a job can be difficult. However, many high school students are able to do this because having money as an incentive is a great motivating force. Although, having a job doesn't necessarily mean prosperity. Some students spend their paycheck as soon as they get it, others can be frugal. But what if a student received one million dollars out of the blue? Would the smart spenders still remain sparing or would the spendthrift students suddenly feel the need to be cautious? Basically, what would they do with it?
"If I won a million dollars out of nowhere I would definitely go on a shopping spree but limit myself to $10,000. After that I would take a year off of school and travel the world with $90,000 and then invest the remaining $900,000," said Senior Emily Dabrowski.
While some students aren't sure what they would purchase, others have a specific thing in mind.
"If I won a million dollars the first thing I would buy is a life-sized walk in Slave 1 Star Wars ship," said Senior Samuel Woodward.
On the other hand, some students felt that they would approach the large sum philanthropically.
"I would donate some of my money to charities along with finding a cure for cancer and travel to wherever I want to go. I'd be sure not to spend it all, though, after traveling a little I would put most of my money in savings," said Junior Kristina Andraos.
Others believe that saving at least half of the money would be a smart thing to do. If lottery winners with millions of dollars can blow through it all in a few years, it must be easy to go through just one million.
"Winning a few thousand would be amazing, I don't know what I would do with one million dollars. I'd definitely buy a car and share some with friends and family but most of it would go straight to the bank," said Senior Blake Hufstetler.
Whether it's so they can travel, get a new car or simply not have to worry as much about the future, one million dollars is something that every student would want to receive.
What would you do with a million dollars?