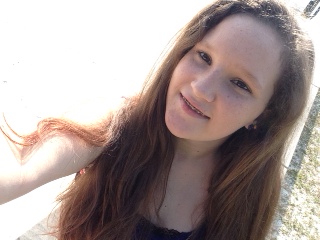 Sadie is a student at Freedom High School. She is new to the school and is originally from Brandon Florida. Her hobbies are practicing on the piano, writing small stories, or reading books. Sadie spends most of her free time in the Northside Sports Team Park or reading.
Sadie was babysitting during the week, but during the weekend she spent time with old friends that go to different schools and her family at the beach and or at home. Sadie says that she's not embarrassed to do things with her family, because they will always be there for her.
Sadie listens to and is open to all types of music. Although if she had to choose it would be either rock, classic rock, or pop punk, Sadie grew up on rock music such as Fall Out Boy, Nirvana, Journey, and Nickelback.
As she loves animals and being in the water, Sadie wants to be a Marine Biologist, or a Dolphin Trainer that works at Sea World. Sadie says she believes that any dreams can become a reality if you believe it can, and that's what she plans on doing.
Sadie Burcham, Staff Writer
Apr 29, 2015

First Major Recall in 108 years

(Story)

Apr 01, 2015

Geese in the Time of Cholera

(Story)

Mar 06, 2015

Yoga Guru Accused of Rape

(Story)

Feb 12, 2015
Sep 30, 2014

Freedom Remembers the Origin of Its Name

(Story)

Sep 19, 2014

Social Media Can Lead to Depression

(Story)