Ready Player One: A New Experience
Hang on for a minute...we're trying to find some more stories you might like.
From the famed filmmaker Steven Spielberg comes a new sci fi movie, Ready Player One. Adapted from the book of the same name by Ernest Cline, Ready Player One is the story of a young hero Wade Watts, who is on a journey to find the digital Easter egg in the world of OASIS.
Spielberg's adaptation is not exactly a faithful one. Being adapted from pages to the big screen, a few changes to the story are expected. One example is the first eight chapters of the book being completely skipped.
"I never read the book, but the movie was awesome. I haven't seen a good movie like this in a while," said Gustavo Gomez, 11.
Anyone who is a fan of sci fi movies is sure to enjoy Ready Player One. With all the references to pop culture from Back to the Future and The Iron Giant, it's sure to get positive reactions from fans and critics alike.
"I loved all the references, like the DeLorean that Wade used in the race and especially the T. Rex from Jurassic Park," shared Junior Luz Hernandez.
With a runtime of 2 hours and 13 minutes, it's going to take some dedication to watch the entire movie, but with the amazing special effects and action scenes, it will not disappoint.
People who have read the book may be put off by the changes to the story, but it should not stop them from enjoying the movie.
The movie was an overall success at the box office, taking the number one spot. It was able to make a revenue of $41.2 million in the U.S. and $191 million worldwide. It did receive a 75% rating on Rotten Tomatoes, which doesn't do it the justice it deserves.
"I definitely recommend Ready Player One to all the fanboys out there. They are going to love it," said Juan Martinez, 10.

About the Writer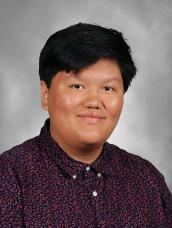 Kevin Le, Staff Writer
Kevin Le is a junior at Freedom High School. He was born in Tampa, Florida on October 9, 2001. It's currently his second year being a part the newspaper...